LEED Gold Certification for the Dunne Administration Building
The County's Dunne Administrative Building has achieved LEED Gold certification. It is the first County government building to achieve this status.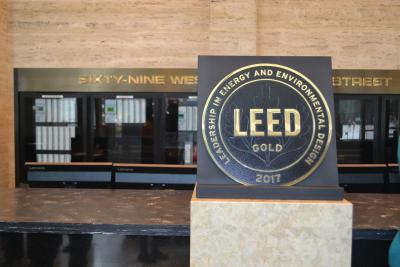 Among the goals achieved for the Cook County Dunne Building at 69 W. Washington are: 
Energy Efficiency:
An ENERGYSTAR score of 91, which means 69 W. Washington is in the top 9th percentile of energy efficient buildings.
Water Efficiency:
Installing efficient restrooms, which not only decreases operating costs but also reduces water use, thus protecting the natural water cycle and saving resources.
Sustainable Sites: 
Instituting a low-impact hardscape and landscape maintenance program for cleaning and maintaining the exterior of the building. This includes composting landscape waste, reducing gas-powered maintenance machinery and using environmentally friendly ice melting and cleaning products.
Implementing an integrated pest management plan which focuses on increased monitoring and reduction of toxic pesticides.
The building benefits from pedestrian access to public transportation and from proximity to community services.  This reduces the building community's impact on the environment, as transportation accounts for 31 percent of carbon emissions in the United States. 
Indoor Environmental Quality:
Implementation of a healthy High Performing Green Cleaning Program to reduce the exposure of building occupants and maintenance personnel to potentially hazardous chemical biological and particulate contaminants.  
High-quality air filtration that reduces the amount of particulates -- such as lint, dirt, dust and bacteria -- that is introduced into the building.
To find out more about LEED certification, go to their website: https://www.usgbc.org/leed