Ribbon Cutting - Professional Building for Cook County Health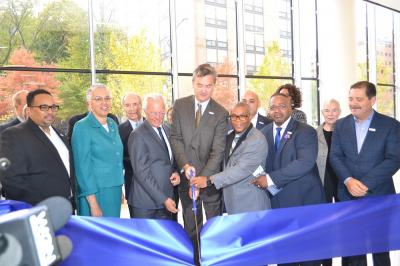 On October 28, 2018, President Preckwinkle, joined by County Commissioners, Alderman Burnett, Dr. Jay Shannon  and other dignitaries, helped to cut the ribbon for the new Professional Building for Cook County Health.  View photos from the event.

For more than 180 years, Cook County has provided a healthcare safety-net delivering quality care regardless of a patient's ability to pay. The new Professional Building represents a lasting commitment to the physical and mental well-being of our residents for clinical services and to the Cook County Health System. 

In November 2014, the County issued a Request for Proposals for a new state-of-the art clinical and professional building for the Cook County Health and Hospital System. We received many excellent responses, and after a rigorous selection process, the design-build team CBRE/Clayco was chosen. In December, 2016, construction began on the new 9-story, 282,000 square-foot Professional Building at the corner of Polk and Damen, which we have today. We made sure that we were proactive in reaching out to the community to include local workforce as part of construction. It was intentional that we targeted the local community by creating a 3 mile radius (local impact area) around the site so that the people in the neighborhood could benefit from the jobs on the project.  Our goal was 7.5% of all the hours needed to be worked come from within the local impact area.  We are pleased to report that as of August, 2018, 18.42% of all the hours worked on this project came from this local community.
Building this new care facility is more than replacing old buildings -  it is a transformative centerpiece. It will enable our healthcare system to offer a modern patient experience that is competitive in contemporary healthcare markets for years to come. It combines state-of-the-art facilities with our already existing quality care.