COVID-19 Recovery: Utility Assistance Program
COVID-19 Recovery: Utility Assistance Program
Service Information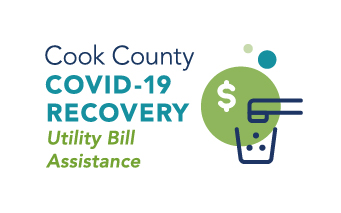 Apply for the Utility Assistance Program!
We are promoting the Community and Economic Development Association of Cook County, Inc. (CEDA) programs to assist eligible residents of Cook County apply for utility payment relief. These utility programs are open to all residents of Cook County, both City of Chicago and suburbs.
If you or someone you love are in need of support, you can access programs to pay for your utility bills with our partners at  (CEDA).  They offer support through the following programs and on-line applications:
To get ready to apply for gas and electric relief, you will need the following documents:
Copy of most recent heat and electric bills if you pay for your home energy directly. (Must provide entire bill)
Verbal proof of social security numbers of all household members.  Hard copies of Social Security cards are not required at this time. For proof of Social Security or Supplement Security income benefits go to socialsecurity.gov/myaccount for an instant letter.
Applicants that have their utilities included in the rent must bring proof of rental agreement stating monthly rental amount, that utilities are included, and landlord contact information. (Rent costs must be greater than 30% of current household 30-day gross income.
Frequently Asked Questions
Go here to fill out an application for various CEDA programs and learn about eligibility.
Questions about your application? Contact CEDA's Call Center at (800) 571-2332.
Learn more about the Community and Economic Development Association of Cook County, Inc. (CEDA) by going here.