Open Enrollment
Service Information

OPEN ENROLLMENT - Plan Year 2022
Open Enrollment is your one time of the year to verify your personal benefits information, make any changes you wish to your plan elections, enroll in a flexible spending account (FSA) and add or remove dependents. 
Enrollment requires using Employee Self-Service (ESS).You may also log in to ESS from a computer outside of the County's network. Required documentation must be scanned and uploaded to ESS in order to complete enrollment for dependents. For assistance with logging into ESS, please contact your agency's Help Desk.
If you wish to participate in a FSA for the 2022 plan year, you MUST enroll during Open Enrollment. Payroll deductions will be taken over 26 pay periods. Remember: FSA enrollment does not roll over from year to year.
Open Enrollment is only available October 1st through October 31st, so please be sure to make changes to benefits elections for you and your dependents during this time.
If you miss this window of opportunity, the only changes you will be able to make to your current benefit elections will be in conjunction with a "qualifying life event" like marriage or the birth of a child.
How to Enroll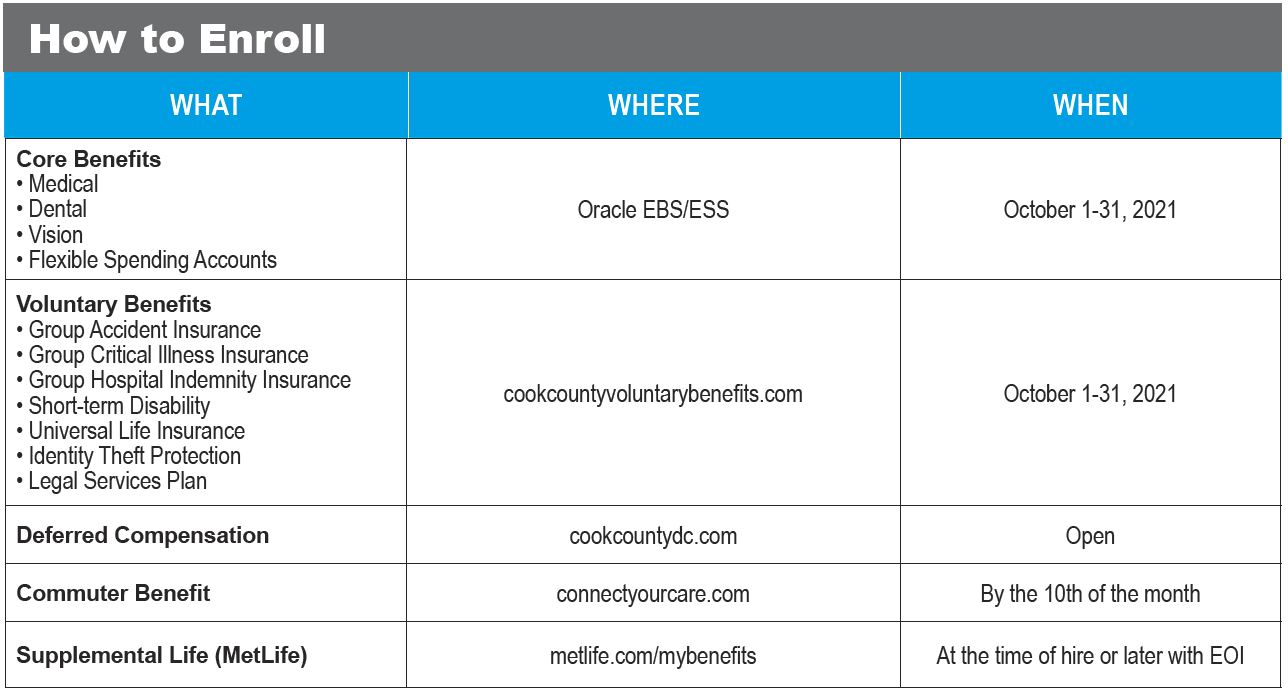 Enrollment Resource Links:
REMEMBER: Any changes you make to plan elections during the Open Enrollment period go into effect the start of the new plan years (December 1st for all benefits except FSA, which is January 1st).  If you enroll in the health care or dependent care FSA, deductions will begin with the first pay check of the calendar year.
Virtual Open Enrollment Sessions
These live events, hosted by the Employee Benefits staff and conducted in Microsoft Teams, will provide an overview of your benefit plan options, the Open Enrollment schedule and new plan features. A representative from Blue Cross Blue Shield will be available to answer medical plan questions.
A video of the enrollment process using Employee Self Service will be shown at the conclusion at each event. 
Open Enrollment On-site Events
Attend an Open Enrollment Informational Event and learn more about your options. These events will be for informational purposes only. All enrollments must be completed online through Employee Self Service. 
October 7, 2021 - County Building, 118 N. Clark St, 10th Floor Lobby
October 14 , 2021 - Juvenile Detention Center, Auditorium
October 19,  2021 - Criminal Courts Building, Lobby
October 21, 2021 - Stroger Hospital, Lower Level Cafeteria
Safety requirements include masks and social distancing. All on-site events are from 10 a.m. to 3 p.m.
Seasonal flu shots will be available at these locations.
Online Open Enrollment Assistance 
If you need assistance with enrollment, click here to schedule an one on one appointment with a member of the Employee Benefits staff. If you need to cancel your appointment, please notify our office through email risk.mgmt@cookcountyil.gov. 
Additional Digital Resources
Benefits Enrollment - Step by Step Video
Blue Cross Blue Shield
Cook County Deferred Compensation
Cook County Voluntary Benefits
CVS Health
Davis Vision
Guardian Dental
MetLife
Optum Financial (formerly know as ConnectYourCare)
Documents
Medical PPO Domestic Tier Flyer 
Dependent Supporting Documentation